♥ Delicious Homemade Software ♥
Welcome to gljakal.com, home of the best freeware applications that save your time and help you stay organized!
Gljakal.com was originally created as a personal website in 2003 and has since evolved quite a bit. The very first program published was Clock, and it is still the most downloaded!
Many other programs have since followed, each one geared towards solving a specific need. Generally, I write utility applications that help me stay organized, like Clock, ToDo or WAYD, but occasionally I also release less serious stuff, like 3D Clock Screensaver or Irrlicht Font Maker. And then there are tools like Font Viewer or File Partitioner, that I wrote because I couldn't find anything on the net that either worked as I expected or wasn't a bloated piece of crap.
Feel free then, to browse my software collection to find the application that will help you save your time, be more productive or just relax!
Didn't find what you were looking for? Not a problem! You can always suggest a new application, or hire me to create what you need!
Cheers,

Loris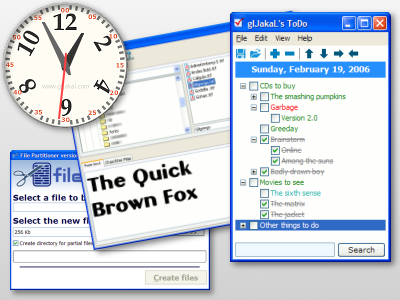 Mailing list