gljakal's To Do
In a world where we never have time for anything, where our projects have to be ready for yesterday, where we have so much things to do that can't really fit into our brains, being well-organized is the only way to stay calm, relaxed and productive. Gljakal's to do is an easy to use program to keep track of the things you have to do. It is so simple that you'll actually use it!
Simple of course does not mean that gljakal's to do is not powerful. This little program has lots of features that can be used with great profit even by non-experts in a matter of minutes!
Whatever you need to organize, gljakal's to do is the perfect tool!
Features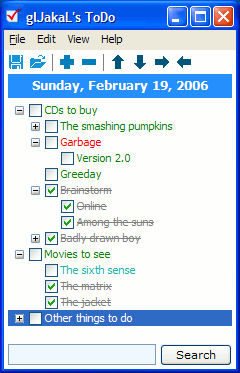 Simple You don't need a degree in computer science to use it!
Graphical Important tasks are marked in red, normal ones are in green and not-so-important ones are in blue. This way you can immediately identify what needs to be done first!
Smart Gljakal's to do remembers your preferences, from the window position to the last file used, which is automatically open on start!
Accessible Control every action with your keyboard, even when you don't have the to do window open!
Printer friendly You can print your to do list, in case you need to share it with friends or colleagues.
On Top If you want, To Do will be always shown over other windows.
Detailed You can type a detailed description for every thing you have to do, using multiple colors and fonts!
Hierarchical To do items are displayed in a tree-structure, so you can define a series of sub-projects and actions for each of your projects.
100% Windows XP™ compatible Your preferences are yours, not your sister's! That's why every windows user has his own "to do" settings.
100% free No hidden catch, no strings attached. Spyware and virus free.
Gljakal's To Do is perfect for:
Project management
Customer support
Holiday planning
Creating a study or research plan
Setting clear goals
Overcoming procrastination
Brainstorming or mind-mapping
Getting things done!
Gljakal's To Do needs the Microsoft .net framework, version 1.1 in order to run. If you have Windows XP SP2 you should already have it installed, otherwise you can download it from Microsoft.